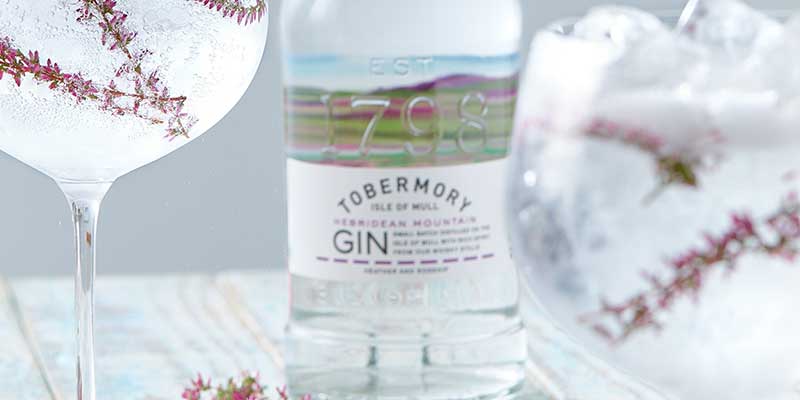 Ever since Tobermory distillery launched its first gin in 2019, it's been a hit everywhere: Using 13 botanicals to make the gin — including Hebridean tea grown locally on Mull, juniper, elderflower and sweet orange peel — as well as a "splash" of whisky spirit, dubbed 'botanical #1', the gin is a reflection of the uniqueness and quality of spirit produced on the Isle of Mull.
Expanding on that successful formula, Tobermory launched a limited edition gin in October 2020, the Hebridean Mountain Gin, which won the overall prize of World's Best Classic Gin as well the Country Winner for Scotland at the World Gin Awards 2021.
The Mountain Gin is made using hand-selected botanicals alongside a splash of new make spirit from the distillery's whisky stills. Adding to that, wild heather from Mull's mountains complement rowan berry, rosehip and 10 other botanicals inspired by Mull create a gin that is smooth and sweet with a gently warming spice.
Laura Thomson, global brand manager at Tobermory Distillery said: "To be presented with this incredible award less than six months after going on sale is an absolutely amazing achievement and we couldn't be prouder.
With a unique taste profile and beautiful packaging, Mountain Gin is a truly stunning addition to Tobermory Distillery's portfolio, perfectly encapsulating the beauty which can only be found on the Isle of Mull. Congratulations to everyone at the distillery for producing one of the world's best gins."
Tasting notes for the Limited Edition Hebridean Mountain Gin
NOSE: An initial burst of refreshing lemon followed by sweet juniper, and a slight hint of coriander and spice.
PALATE: Rich creamy mouthfeel, sweet lemon infused rosehip with a bitter balance of Rowan berry, floral hints of heather and a warming ginger spice.
FINISH: Lemon and rowan berry linger, but are rounded with the sweetness of rosehip and a gentle ginger spice.
Buy it now here.