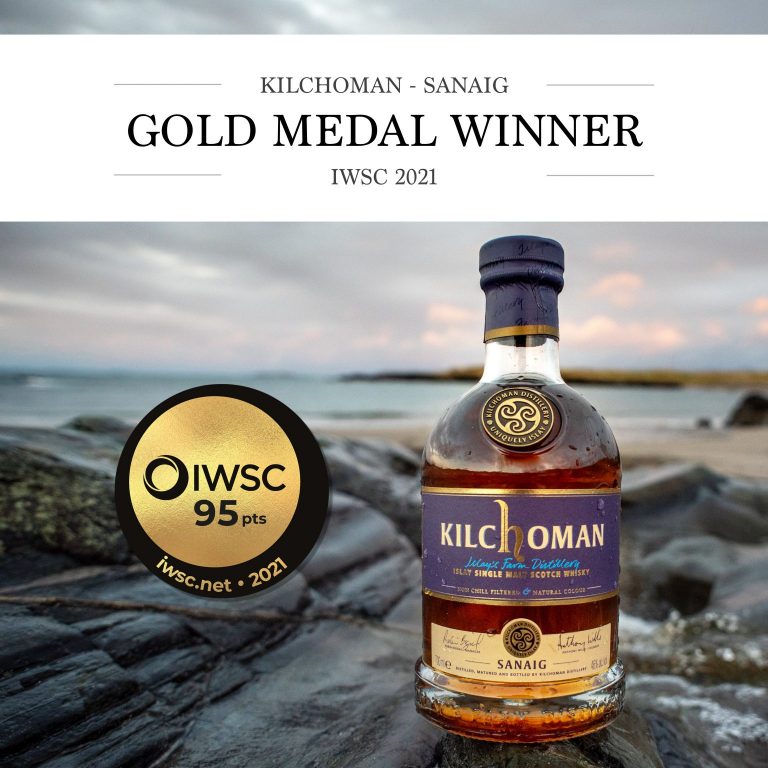 This year's whisky awards season has been good to Kilchoman, which won numerous awards and accolades for their high-scoring whiskies, including their Machir Bay, Sanaig, Loch Gorm and 100% Islay.
The Scotch Masters 2021 competition
Machir Bay and Loch Gorm were both presented with gold medals in The Scotch Masters 2021 competition, organised by the The Spirits Business magazine. Judged by a panel comprising Billy Abbott, ambassador for The Whisky Exchange; and Matt Chambers and Karen Taylor, co‐founders of the Whisky for Everyone, the competition was more than double in size from 2020 and very competitive, which made their gold medals all the more noteworthy. As well as these golds, Sanaig was also awarded Silver in the same competition.
The Ultimate Spirits Challenge & International Wine & Spirits Competition
In the Ultimate Spirits Challenge, Machir Bay was a 'finalist' and awarded the 'tried & true' award with 95 points and Sanaig 91 points, while in the International Wine & Spirits Competition (IWSC) Sanaig came out on top with a gold medal at 95 points and Machir Bay 93 points.
Machir Bay is part of Kilchoman's core range and available throughout the world. Named after the stunning beach next to the distillery, Machir Bay is a vatting of Kilchoman matured in approximately 90% bourbon barrels and 10% oloroso sherry. The high proportion of bourbon barrels create a distinct balance of classic Islay character and fresh floral complexity.
Loch Gorm is Kilchoman's only annual limited edition matured entirely in oloroso sherry casks and is a hugely popular release with Kilchoman drinkers around the world. Named after Islay's largest freshwater lake neighbouring the distillery, the dark murky colour of the loch's water is reflected in the rich coppery tones of our sherry matured Loch Gorm.